ROAD/LANE CLOSURES
Information related to the most recent road or lane closures can be found here. This information is subject to change. Please check back regularly for the most updated information.
From August 21 to September 25
Various lane closures affect frontage roads at IH37, US181 and SH286 (Crosstown Expressway) connector ramp
From August 14 to August 25
The westbound right shoulder and sections of the sidewalk on Martin Luther King Drive near the intersection of Martin Luther King Drive (IH 37 Frontage Road) and Nueces Bay Boulevard will be closed intermittently.
From August 4 to November 21
A section of East Causeway Boulevard near the intersection of East Walnut Street and Seigler Street will be closed along with the entrance ramp to the West Causeway Boulevard (Joe Fulton Corridor) northbound US 181.
From July 6, 2017, to October 31, 2017, from 7 a.m. to 7 p.m.
The northbound lanes of West Causeway Boulevard (Joe Fulton Corridor) will be closed between Elm Street and Burleson Street.
SAFETY
Our goal is to ensure that project work zones are as safe as possible for all stakeholders including motorists, pedestrians, passengers and construction workers.
A driver in clear weather during mid-afternoon comes upon slow or stopped traffic due to a work zone and crashes into another vehicle, or in the process of avoiding such, crashes into a barrier, equipment or pedestrian.
Follow the "Safety Tips"
DRIVE SMART: BUCKLE UP, SLOW DOWN, SAVE A LIFE
Diagram concept taken from the Work Zone Safety Tips for Drivers provided by the U.S. Department of Transportation Federal Highway Administration.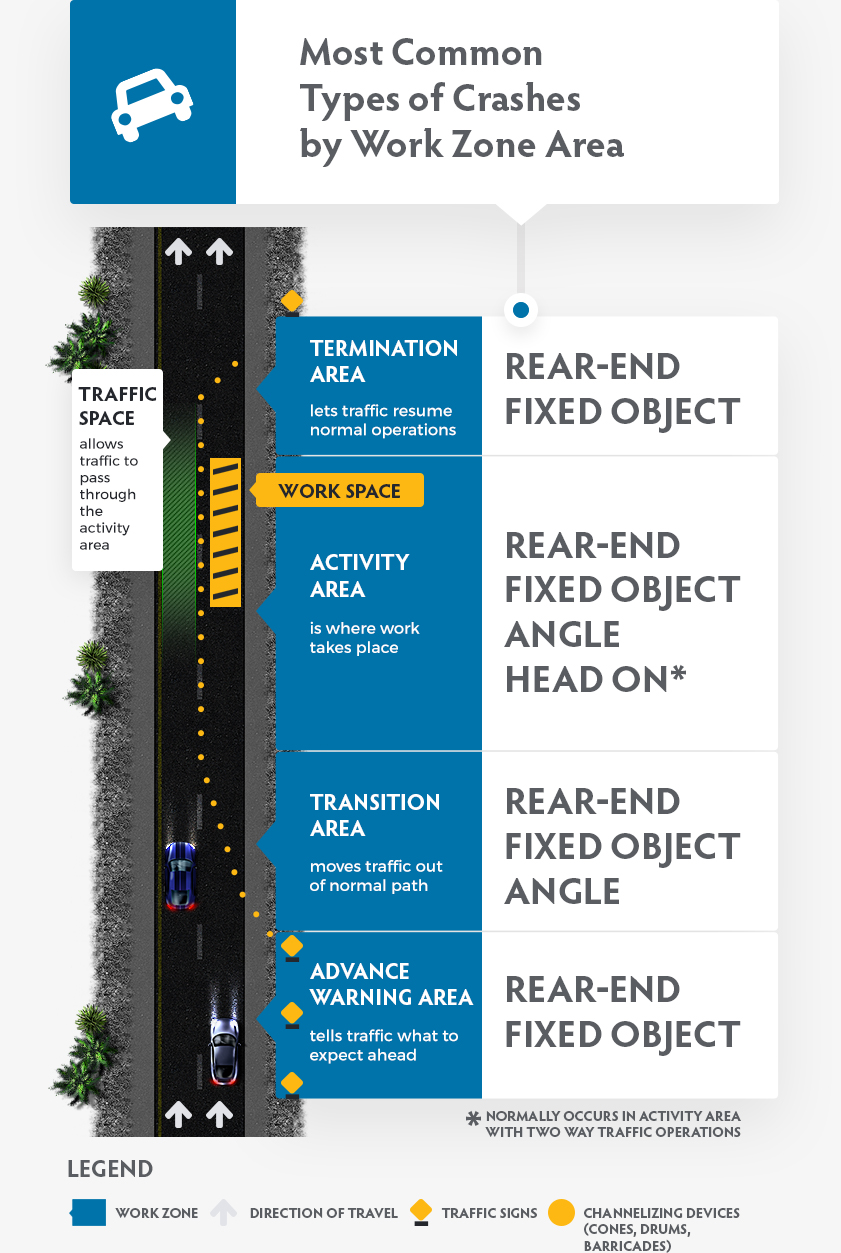 DRIVETEXAS.ORG
Click here to view TxDOT's DriveTexas.org site, which provides the most updated information regarding highway conditions across the Lone Star State.